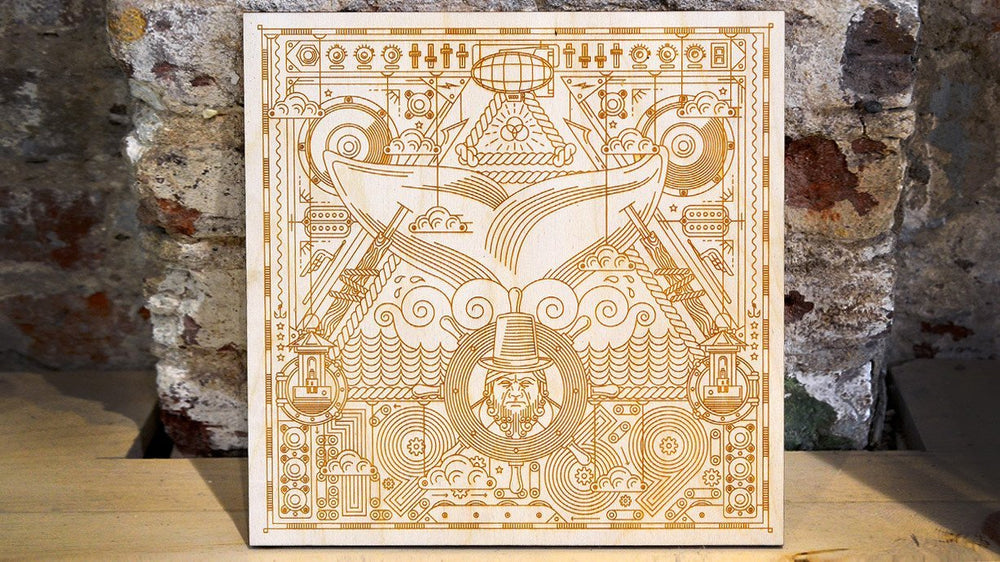 You've finished a fantastic illustration that's almost asking to be screenprinted onto a T-shirt or laser-engraved onto wood – or maybe you've designed a set of killer business cards, or vintage letterpress invitations. The question is: where's the best place to get them made?

Turning your illustrations into tangible products isn't just an incredibly satisfying process, it can also provide a valuable stream of extra revenue for designers and illustrators. So where do you start? The internet is overflowing with options – where can you get the best quality, service and value for money?

We've put together a collection of some of the best places we've come across for getting your products made. Some of them we've used ourselves; others have been recommended by leading designers and illustrators (huge thanks especially to Sara Blake, Tom Mac, Steven Bonner and Radim Malinic).

If we've missed any of your favorite companies, let us know and we'll add them to the list. Read on to take your illustration to the next level…




We'll start with the daddy of customized business card services: Moo. The UK-based print-on-demand company lets you shop by paper quality (starting with premium and ending at extra-think Mohawk Superfine luxury paper) or shape, offers a heap of features like gold foil and spot gloss to make your business card stand out, and lets you print a different image on the back of every single card at no extra cost, should you wish.

You can print full color on both sides for no extra cost too, and you can either upload your own design or customize a Moo template if you prefer. 50 Moo-sized business cards start from £13.19, and they'll deliver around the world.


Need to get some letterpress invitations or letterheads printed? Publicide is a full-service print and design company based in downtown New York that offers custom letterpress, foil stamping and offset printing – as well as in-house designers to make sure you get the best product possible.

Their three Heidelberg presses provide a huge range of special effects and can handle everything from super-thick business cards to custom buck slips, presentation folders, packaging and so on. If you're after letterpress, especially, Publicide has a lot to offer.



Image courtesy of Big Secret: Laser-engraved wooden LP illustration by Kendrick Kidd
When it comes to laser engraving, get in touch with Big Secret. Whether you're looking to laser your designs into wood, paper, acrylic, fabric, glass, food or, er, human femur bones, the Richmond-based company should be your first port of call. Their work has appeared on Nike, Jack Daniels and Oreo products, to name a few, with designers like Friends of Type's Erik Marinovich singing their praises.



Image: Travel Portland x Scout Books
Whether you want to make a custom-branded notebook for a client or develop your own, original notebook line, Scout Books is a publishing platform that lets you quickly and easily bring your designs to life.

Printed with vegetable-based inks on 100 per cent recycled papers - and reportedly powered by renewable energy too – the notebooks can be customized by size, quantity (starting at 250), ink color, page style, staple color and turnaround time.



California-based online drop shipping and print-on-demand company Printful is a great option for anyone who wants to start making their own T-shirts and apparel. Prices are competitive and you can choose from high-quality options like American Apparel or Alternative Apparel models, or more budget-friendly brands like Gildan.

You also have the option to print one-off designs for your own use, or to sell your designs in your online store. And Printful does accessories – iPhone covers, mugs, hats, posters, totes, pillows and so on, so you can really get creative.


Expert screenprinter 3rd Rail Clothing provides high-quality screenprinting and garment customization to clients all over the world. From epic all-over T-shirt prints and gallery-standard paper printing to garment customisation (including laser sharp pockets and sleeves) and screenprinted packaging, the London-based team of illustrators, designers, printmakers and seamsters offer superb craftsmanship and fantastic customer service.  



Swedish service Sticker App is the place to go for custom stickers and labels. Prices start at £10 for a sheet, and they offer a huge selection of materials – from glossy coated vinyl to transparent – that, say the company, will be weather-resistent for three-five years. They have tons of happy customers so are definitely doing something right.

Image: Phenomenal Vinyl wrapping a 1970 Cuda for an episode of Chop Cut Rebuild 
Okay, you might not have a 1970s Cuda sitting in your drive. But whether you've dreamt of customizing your own car forever, or you're working on a branding project that requires a vehicle wrap, New York-based Phenomenal Vinyl is in a league of its own when it comes to custom wrapping.
And they don't just do cars: they also wrap interior panels, stained glass, walls – wherever you need a wrap, they say they can make it happen.  


Specializing in high-quality, short-run printing, Ripe Digital is the UK's premier Indigo digital printer in the south west, and has clients around the world, ranging from Ammo Magazine to streetwear brand AnyForty (pictured above).

Boasting a seven-color ink system (including white and transparent inks), with Pantone color-matching for litho print quality and no minimum run, Ripe Digital can turn its hand to everything from corporate literature to lookbooks and packaging, and has a top-class reputation for quality, quick turnarounds and excellent customer service.




Starting from $7 per scarf, Ruffneck Scarves provides a wide variety of custom scarves, ranging from "soccer scarves" (traditional Jacquard Knit scarves) for teams and clubs to lightweight summers options and embroidered scarves.

The scarves are double-sided and can be designed differently on each side for no extra cost, the minimum order is 50 pieces per design, and the company ships internationally.
Where do you get your products made? Let us know below and we'll add your favorites to the list.