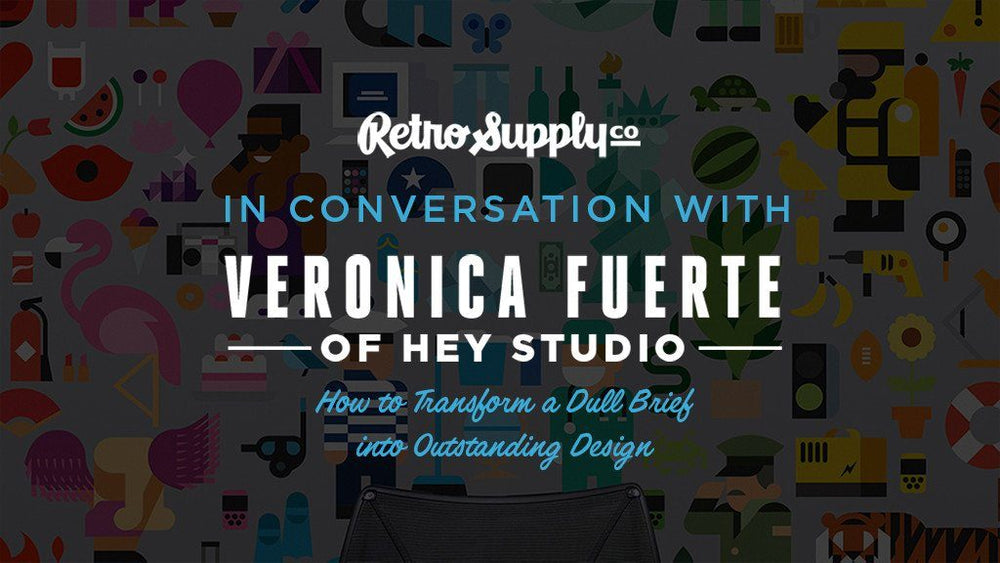 Have you ever felt like you're not doing enough of the work you love? If you've ever experienced a run of uninspiring client commissions, or battled with an increasingly demanding 9-5, you'll know what we mean. We speak to a lot of designers and illustrators, and it's fair to say that most of us feel like this at some point.  

That includes Hey Studio founder Verònica Fuerte – although you'd never know from looking at the Barcelona-based firm's portfolio. Playful concepts are realised with strong type, joyful color palettes and wonderfully bold geometric shapes: the work is fresh, exciting and demands attention.

In fact, so successful is Hey's energetic marriage of color and concept that a host of big-name clients have come a-calling over the studio's 10-year history, including Apple, Nokia, Microsoft, Monocle, the Wall Street Journal and more. And over that time, the studio has developed a cult-like status among its hundreds of thousands of social media fans.

Image: Hey's Verònica Fuerte talking at thread in the UK
As you might imagine, then, we were interested to discover that Hey doesn't always get the most exciting creative briefs. Often, in fact, the studio has to work hard to create meaningful work from the commissions it accepts.

We met up with Verònica in early March at thread – a series of inspirational meet-ups held in the British creative hub of Bristol – to find out how the studio does it. Before she took to the stage to share some of the lessons she's learned over the last 10 years, Verònica told us how Hey has managed to get on the radar of some of the world's biggest global brands, and explained how the studio transforms dull commissions into exceptional design work that takes pride of place in their portfolio…



Hey's work always looks like it was really fun to make. How do you turn less exciting commissions into exciting portfolio pieces?
Image: Identity for the Ministry of Enterprise and Labour, government of Catalonia
Verònica Fuerte: We all have boring clients. It's something that happens to every designer, illustrator and studio. But as creatives, we also have the tools to do the job brilliantly: it's how you approach the brief and how you explain your ideas to the client. I know sometimes a client can be very difficult, but I think it's our job to make boring projects brilliant.

You need to focus on the good words in the brief, and not just jump on the ones that aren't interesting. At Hey sometimes we have projects that could be very, very boring. One government project involved these very bland graphics that we needed to illustrate – so we decided to do it very differently. The results were attractive and much more interesting. Everything can be exciting, it's just how you look at it.



Hey's portfolio boasts some huge clients. How did Hey get on the radar of Apple?
Apple's creative director follows us on Instagram. They got in touch by email and Skype, and we worked together on some projects, which I can't show unfortunately, but it was easy – I mean, getting on the radar of Apple involved the same steps as how we get all our clients: through posting our work on social media. At the beginning we didn't realise we were talking with Apple!


Can you share any tips for designers and illustrators who want to step it up and start working with bigger global clients?
Image: A1 poster for Coca-Cola 
It doesn't depend on the size of the studio or where you are. It's how good your work is. Whether you live in Spain or the States, what's important is your work, and whether it has a special or important factor that makes it attractive for that particular client.

That means you have to make an effort in developing your style, and put time and craft into all your projects, and share the results, because someone will look. And with social media, that someone could be from any company in any country. If you're passionate, work hard and your work is good, it'll be seen.



How do you get new business? Do you have a strategy in place?
We had a strategy at the beginning, because we didn't have any clients, so I spent a lot of time sending emails and physical portfolios to newspapers, magazines, companies and museums that I loved. I put a lot of effort into that and we got some clients, and then it was easier after that.

Now we get new business through non-stop working. If you stop, you don't have clients, so we try not to stop. Of course, sometimes you might have a low rhythm of client work, but then it's a good time to invent projects, experiment and create personal work.



What did Hey's early physical portfolios look like?

Image: Office illustrations for telecommunications firm Three
They were very small, A5, and very homemade – I printed them in the studio. They only showed a small selection of projects, and a lot of them were personal because we didn't have any clients then. But it worked. People receive a lot of showcase emails, so when you receive a physical portfolio it's like: 'Wow, someone spent a lot of the doing this', so I think it's good to invest time and money in doing something like that if you want to get clients.


Hey is well-known for its lively color palette and clear illustrative concepts. Are there any tricks for creating the perfect color scheme?
No – it's very difficult. It's more like a feeling. But at the end of the day, you have a brief. You can't use popping colors for a very serious thing… We do a lot of tests, and we talk around the studio to get everyone's thoughts on particular color schemes.

Color is something that I've loved from the beginning. When you design, something of your person goes into the project, so maybe color is part of my personality and that's why I invest time in colorful work. You can express a lot with color.



What advice would you give to other designers, illustrators and studios for raising their profiles?
Image: Cover and feature illustrations for Sport magazine 
It's really important to be consistent and to keep creating. If you stop working, everything stops around you. You need to invent things, so do personal projects. It's not necessary to spend money on self-promotion – you can use your Instagram account, or whatever. You have the tools. It's just very important not to stop creating.  



How do you make time to do the work you love at Hey?
Sometimes we have clients who aren't so good, but we try to find a balance between good projects, jobs that pay the bills and personal work. We also have an online shop, which we spend time creating personal work for. Since the beginning of the studio it's been very important that we invest time doing these kinds of projects, because in commercial work there's a schedule, so you don't have time to investigate or say: 'I'm going to spend one month exploring things'. But when it's your personal project, you have time and you can do whatever you want.

If we are very, very busy then of course we can't do personal work, but when we're more relaxed we do it because it's time you're going to get back – whether that's in the form of new projects or new clients. I never feel like I'm losing time when I'm experimenting. I'm investing in the studio.



What have you got coming up over the next 12 months?
Image: NAVA notebooks by Hey Studio
It's our 10th anniversary at the end of this year, and we're really excited. We have to put some thought into how we're going to mark it, but it's a big moment for us. We can't wait!
Big thanks to Verònica and thread events for the interview. You can see more of Hey's beautiful design and illustration work below...
WANT SOME PREMIUM DESIGN FREEBIES?
Sign-up to the RetroSupply newsletter and we'll send you an awesome pack of freebies, including a sample of our most popular font Palm Canyon Drive, high-res Industrial Grunge textures, premium vintage Photoshop brushes and a whole load more.

Hey Studio: Brummell magazine cover arts
Hey Studio: Re:porter magazine illustrations
Hey Studio: Forward section lettering for ESPN Magazine

Hey Studio: Transport for London poster