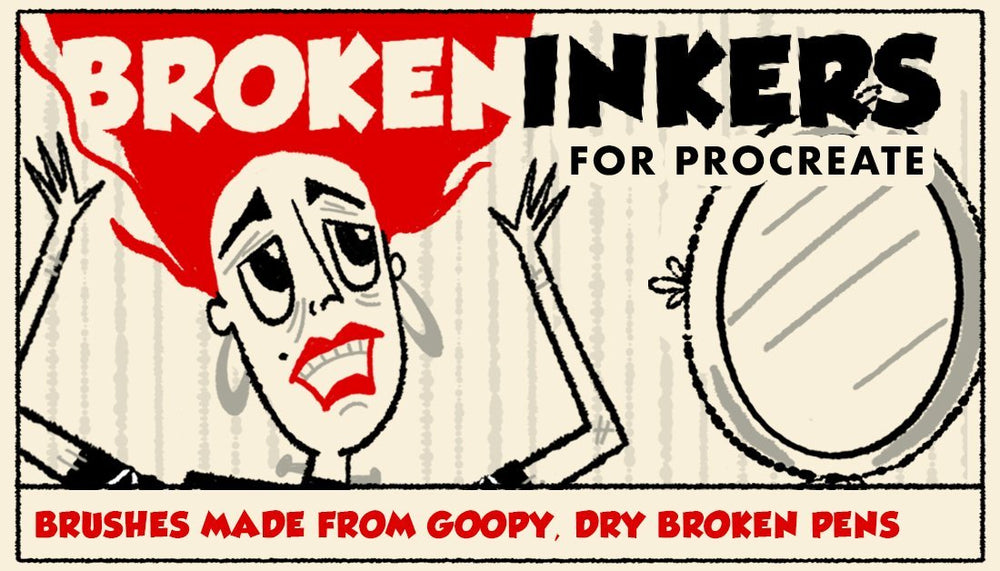 Classic Runny Inking Brushes for Procreate
Do you want the look of runny Procreate inking brushes?
Then our Broken Inkers Brush Set for Procreate is going to be your new best friend!
This pack contains eight inking brushes made to emulate the haphazard, gooey, broken look of ink pen illustrations from the greats.
What Makes these Procreate Brushes Special?
When most people create a brush pack of Procreate, they throw in tons of useless brushes. People do this to bulk up packs so they can charge you more.
This wastes your time and can be frustrating.
We made dozens of runny inker brushes. Then we tested them with professional illustrators. Finally, we chose the eight best brushes for you.
That means every brush you use will be enjoyable and useful in your work.
Brushes Included in the Pack
All of these brushes are inspired by the gummy, dry, goodness of old ink pens. These are your favorite ink pens that get lost on the back of your pen drawer. But when you find them they've become nearly magical!
Here are the brushes included in the pack:
Beaded Inker
Drizzle Inker
Blotchy Inker
Gloopy Inker
Skipping Ink
Old Faithful Inker
Chumpy Inker
Jiggly Inker

Free Broken Inker Brush for Procreate
Want to try one of these brushes out for free?
We've included our classic Beaded Inker for you to download and try for free. Plus, easy download instructions.
Click here to download your FREE Broken Inker Brush for Procreate
Grab the Pack Now for Just $12
Whether you're searching for a fresh pack of Procreate brushes for your illustrations, lettering, or comic book, you'll love this new pack.
Don't forget, these brushes were made by professional illustrators and tested to make sure you'll love your purchase.
And at $12, it's a steal. You're guaranteed the best quality Procreate brushes and if, for any reason, you don't love them, just email us and we'll refund your money.
Click here to buy the complete Broken Inkers Brush Set for Procreate brush pack now.