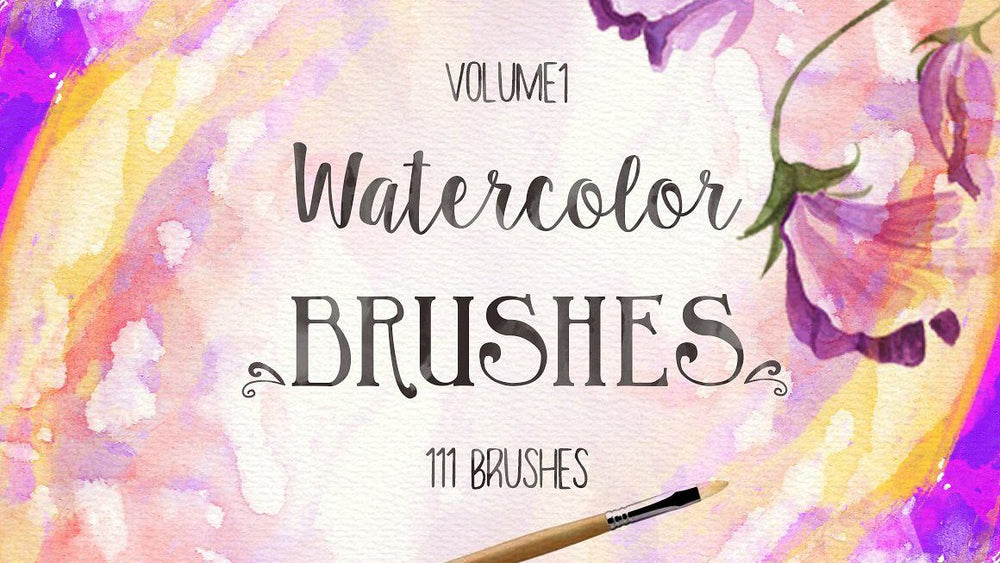 If you're looking for some high-quality, realistic watercolor Photoshop brushes, you've come to the right place. We've already shared our collection of the 50 best Photoshop brushes elsewhere on the site. Here, we're looking specifically at the very best watercolor brushes for Photoshop, to help you capture impressive traditional effects in your digital creations.
Our list includes premium individual brushes, as well as realistic watercolor Photoshop brush sets. If you're on a budget, you'll also find a selection of top-quality free watercolor Photoshop brushes here as well. Plus, there are options suitable for early versions of Photoshop right up to Creative Cloud. Let's get started...
Cost: $19 (Basic), $29 (Premium) $47 (Deluxe)
Compatibility: Photoshop CS4+
Designer: RetroSupply
Included among the 31 brushes in the diverse Woodland Wonderland pack are our favorite Watercolor Photoshop brushes. These are the ones we use whenever we need to create realistic watercolor brush marks.

Inspired by Golden Book illustrations, the pack comes in three different options. Basic brings you 31 fantastic brushes for recreating Golden  Book illustrations, a quick reference guide to each brush and free updates for life.

Premium adds four tutorials and a time-lapse from Brad Woodard of Brave the Woods walking through how he created the cover illustration for the Woodland Wonderland pack (above). And with Deluxe you'll also get a recording and transcript of a 60-minute webinar, held by Brad and RetroSupply founder Dustin Lee.
Cost: $4.80
Compatibility: Photoshop CS3+
Designer: Little Bean
This set of 20 watercolor Photoshop brushes is ideal for creating a traditional art feel in your designs. You can layer them up to add depth, introduce gradients and mix together colors to create unique effects. This pack contains a set of brushes for users of CS6 and later, as well as a set for users of CS3-CS5. They're the work of Graham Bull, aka Little Bean, and available to purchase through Creative Market.


Cost: Free
Compatibility: Photoshop
Designer: Creative Nerds
This splatter-effect brush set offers some of the best free watercolor Photoshop brushes around. The large-scale design is ideal for adding a realistic watercolor spray effect to your artwork, and it's completely free to use in both personal and commercial projects. As usual, the only thing you can't do is redistribute the brushes or modify them for resell – but that is, of course, the same for every brush here.
Cost: $12
Compatibility: Photoshop (all users)
Designer: Tom Chalky
These top-quality watercolor Photoshop brushes are the work of creative resource design specialist Tom Chalky. As well as 69 brushes, you'll get 11 textures thrown in for good measure. And you can combine these textures with the watercolor brushes to create completely new effects. These brushes are suitable for all Photoshop versions.
Cost: $7.20
Compatibility: Photoshop CS1+
Designer: Summit Avenue
Each of the watercolor Photoshop brushes in this pack has been hand-painted by artist and designer Joell Norberg. The brushes are nice and high-res (2000-2400px wide), making them flexible for all your design needs – the colors are editable in your design software too, as you'd expect. This pack is on sale through Norberg's Creative Market shop Summit Avenue, where you'll find plenty of other great resources.
Cost: Free
Compatibility: Photoshop
Designer: Creative Nerds
We have some more great free watercolor Photoshop brushes for you here. Use these watercolor blobs to liven up your designs with some authentic paint splotches and splashes. This brush set is available to download from web and digital design news and resource site Creative Nerds, and is completely free to download and use – even in your commercial products.
Cost: $25.20
Compatibility: Photoshop CS1+
Designer: Kite-Kit
Here's a one-stop shop for all your needs: this bumper pack contains over 1,200 watercolour Photoshop brushes. It includes everything from floral elements to borders, frames, curls, animal silhouettes and even teapots. At the moment they're on sale with 40 per cent off, but this is a limited introductory offer, so snap them up if you're after some realistic watercolor brushes for Photoshop. 
Cost: Free
Compatibility: Photoshop CS2+
Designer: Denny Tang
Grab this set of hi-res watercolor splatter brushes from DeviantArt user Denny Tang, who says each one was created with artist-quality watercolor paint on cold press watercolor paper. The set is completely free to use, without attribution, and the pack contains 32 watercolor Photoshop brushes, as well as three photo textures. It can be used with Photoshop version CS2 right up to CC.
Cost: $14.40
Compatibility: Photoshop CS2+
Designer: DesenArt
There are a whopping 111 watercolor Photoshop brushes in this set from Bucharest-based graphic designer and illustrator, DesenArt. The versatile pack could be used for anything from posters and wallpapers to labels or brochures. As well as the brushes themselves, you'll also get 10 backgrounds, and a short tutorial on creating watercolor flowers, to help get you started.
More premium Photoshop brushes
These are our favorite watercolor Photoshop brushes – but we have a larger collection of premium brushes that we turn to regularly as well. You can see more of our favorite Photoshop brushes elsewhere on the site, and we'll update this article regularly with more must-have watercolor brushes for Photoshop – so check back in again soon.