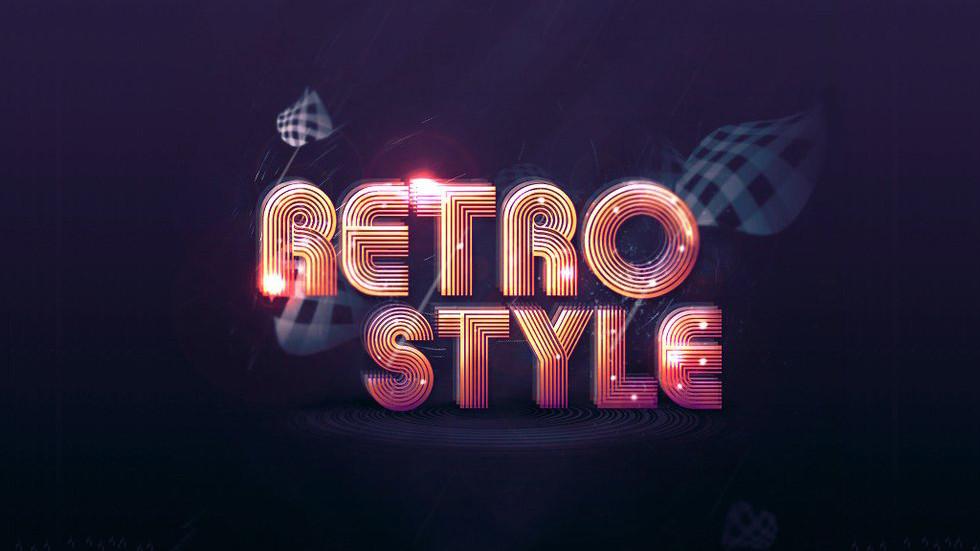 Looking to improve your type design? Then look no further: we've rounded up a collection of some of the best retro and vintage typography tutorials for Photoshop and Illustrator to help take your skills to the next level.

Type design is a luring field for any designer or illustrator, but mastering the art of typography is a skill that comes with time – and practice. That's why we've covered a range of areas with these typography resources, which we've split into handy categories to help you navigate to the section you want:

01-05: Typography tutorials for beginners
06-09: Illustrated type tutorials
10-12: Retro and vintage typographic posters
13-14: Retro and Vintage Text Effects
15-16: Advanced typography tutorials for Photoshop and Illustrator


QUALITY TYPE RESOURCES
Before you get started with these tutorials, check out our selection of quality retro and vintage fonts, text effects and texture packs. They're the perfect way to add instant depth, warmth and retro magic to your design and illustration projects.
As always, the tutorials in this round-up aren't about copying the work of other artists. They're about learning the techniques involved in each project, and applying them to your own designs.

That's why some of the resources in the beginners and advanced sections fall into the realm of typography tips and tricks, rather than tutorials. The knowledge and insight in each will help fine-tune your lettering, helping you side-step classic mistakes and produce strong, stunning retro and vintage typography that will catch a client's eye.


Typography tutorials for beginners

This useful site gives you 50 different text tutorials to do that come with a variety of softwares such as Photoshop and Illustrator. All are free and convenient to use if you are a beginner and want to learn some cool tips and tricks to create your own work.


If you're looking to create 1940s film noir-style typography, look no further than this cracking tutorial for creating a vintage title card in Photoshop and Illustrator. You'll learn how to combine authentic vintage photography, textures and digital fonts to replicate the shadowy, grainy look of typography from the classic noir era.

And don't forget to check out our selection of retro fonts and vintage textures, if you need any quality resources to follow this tutorial.


Looking to brush on the basics? This crash course in typography breaks down typographic theory and practice, covering the different kinds of typefaces, as well as the basic anatomy of a typeface and more resources for delving deeper. It isn't a tutorial – but it will help you hit the ground running if you're about to start a new retro or vintage typography project.


Banish kerning calamities and learn to love leading with these expert tips and tricks for perfect typography. From abstract advice – like why it can help to kern upside down or imagine balloons between letters – to technical tips for rough tracking in headlines, this article brings together a mixture of beginner and pro typography tips.


While we're on the subject of basics, this beginner's guide to OpenType  illustrates some of the more common features found in OT fonts and when they should be used. It's a great resources for any would-be type designer.

Also read: How to Design a Best-Selling Font




Illustrated type tutorials
Tom Whalen shares some pro advice for using Illustrator's Free Transform tool and adding depth to text in this illustrated type tutorial. Now free to view, it was originally published as a Tuts+ Premium tutorial but although it doesn't use the latest version of Illustrator the techniques are still valuable.


Chris Spooner explains how to create hand lettering-style typography illustrations with Illustrator, in this handy video tutorial. You'll produce a silhouette of a car with distorted text, but the techniques covered here can easily be applied to your own concepts.


KingTutsPro walks through how to create a typographic illustration from scratch using Illustrator and Photoshop CS6, in this experienced-level typography tutorial.




Design a powerful text portrait poster with this Photoshop CC 2014 tutorial from Blue Lightening. Again, you can apply the techniques learned here to your own retro and vintage typographic illustrations.






Retro and vintage typographic posters


Create a vintage-style typographic poster with this Illustrator tutorial, which was inspired by the Wizard of Oz. From using warp effects to picking a vintage color palette, you'll cover a variety of techniques for creating 1900-era type.


Learn how to create a dynamic and exciting layout for a typographic poster by breaking the grid in this intermediate-level tutorial. Using both Photoshop and Illustrator, you'll cover everything from Live Trace and Smart Objects to effects like Extrude & Bevel.



From choosing the perfect font to creating bespoke glyphs and ligatures, Emiliano Suárez reveals how to manipulate serif type in your design work using Illustrator.




Retro and Vintage Text Effects


Chris Spooner took inspiration from 19th century typography for this vintage text effect tutorial. Covering everything from offset path, blends and the Pathfinder tool, this walkthrough shows you how to convert a basic word into a stunning piece of engraved typography.  


This is beginner-level retro typography tutorial has lots of tips and tricks for effective text manipulation. From creating abstract effects to using the Slice tool, you'll find plenty of techniques for creating retro and vintage type for your designs.




Advanced typography tutorials


This an older typography tutorial – but if you're interested in bringing Cinema 4D into your workflow then it's worth a look. In the first half, Alex Beltechi explains how to customise a Blackletter font and create 3D text with vector shapes; while in part two you'll generate realistic textures and create a fitting scene for your text. 


Finally, this feature looks at how frequently type needs to be broken down into different levels, such as topic, importance and tone of voice. It covers how this can achieved using texture and tone, color, grids, and through combining different typefaces. It isn't a typography tutorial – but it is a must-read for anyone looking to further their understanding of typography and visual hierarchy.