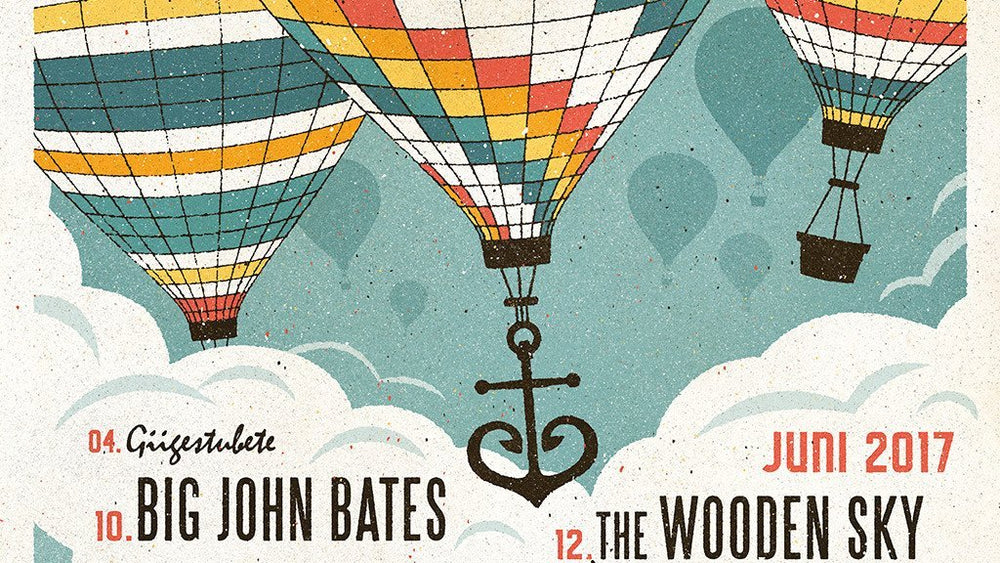 "I want to go beyond making a pretty image: I want to tell a story. I love the way it feels when a design clicks."
Coming up with a new poster concept is one of Jeana Hadley's favorite challenges. The San Francisco-based illustrator is all about the detail – a fact that hasn't gone unnoticed by Zurich's prestigious Museum of Design, which recently asked her to submit some work to its extensive poster collection.  

One of the most important archives of its kind in the world, the collection holds over 350,000 posters, documenting Swiss and international poster history from the mid-nineteenth century to the present day.



Image: Jeana Hadley, Drinking Songs poster

It's no small honor. But it doesn't take long to see why the museum wants her posters: Jeana's geometric illustrations balance sharp angles and stripped-back color palettes with rich, grainy textures, opening doors into new worlds of motion, intrigue and adventure. It's impossible not to be sucked in.

"I like to ask questions; know the facts. It's like solving a puzzle," says Jeana, who's the founder of Sealevel studio. "I want to go beyond making a pretty image – I want to tell a story, which is why I like to weave as much information into the final image as I can."


Lost in the detail


Unsurprisingly, sometimes this can take a while. It isn't unheard of for Jeana to work on a draft for up to 50 hours, although since adopting a dog last year her workflow has improved immeasurably.

"I used to stay glued to my work for days; forget to eat and sleep," she admits. "Now I have to take breaks to walk the dog around the block multiple times a day. It really helps. Coming back to your work with fresh eyes can make a huge difference – and taking a long walk on the beach with him every morning is a great way to start the day, rather than going right into answering emails and doing admin, as I used to."



Image: Jeana working from her home studio
Before moving to San Francisco in 2013, Jeana was part of the management team at a bar-restaurant-music venue in Zurich, El Lokal. Designing posters and flyers was part of the job, and when she moved back to the States she continued to work for the venue.

Until recently, however, El Lokal was her only client. Although she always received positive feedback, she wasn't interested in designing for anyone else. "I'd worked as a graphic designer for many years before managing the venue," she explains, "but I always felt constricted and it didn't really make me happy."



Image: Jeana created the Matchbook Print Machine cover image 

A whole new world of possibilities opened up when she rediscovered Adobe Illustrator. "It helped me take my work to a new level. People started to reach out and ask me to design things for them, and I've started taking on work for other companies."

Stepping up

Jeana begins every new project by roughly sketching her ideas in a notebook. Then she makes a Pinterest board recording reference material, color schemes and other inspiration. "I love my Wacom tablet and pen – I'd have a hard time without them or my iMac," she adds.



Image: Jeana Hadley, Captain Bee Heart poster
With every new project she tries to push herself, improve her skills and learn something new. But her best advice to other creatives is to step away from your work sometimes: "Take a break. Get some sleep. It's so important to allow yourself some breathing room," she points out.

Often, that's when the perfect solution arrives. "I love the way it feels when it clicks," she smiles. "The moment when I know: that's it. This is what it's going to be. It makes my heart flutter, and I can't wait to get to the finished design."
Creative Giants: In this new series we're looking at inspirational creatives with a thirst for learning and pushing the boundaries. They aren't afraid to take risks. They face each new challenge with optimism, grit and passion. And they're changing the world around them, one step at a time.

Image: Jeana Hadley, Flying High poster


Image: Jeana Hadley, Flying Fish poster



Image: Jeana Hadley, Deeply Blue poster