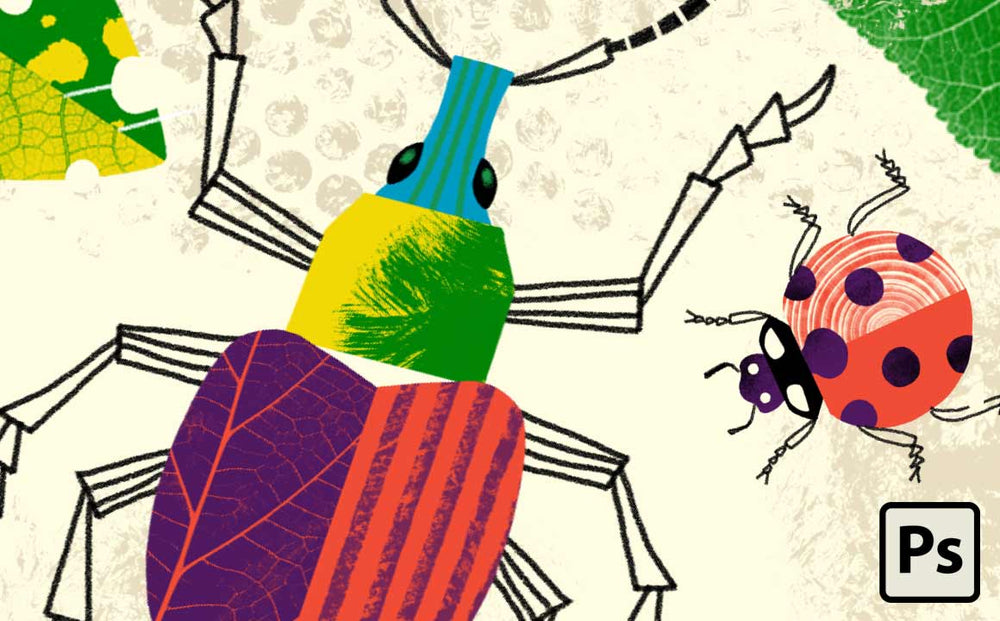 Friendly Notice: If you dig this tutorials you'll probably really love the Brave the Woods Summer Tour. Brave the Woods is travelling across the US teaching live workshops. It's fun, unintimidating, and you get so much free stuff in the workshop it's practically free.
Over the past few weeks I've been working on a new brush pack with Brad Woodard of Brave the Woods.
The brush pack is a collection of extremely bold textures to add to your illustrations. It reminds me of the stuff you might find in an Eric Carle or Charlie Harper's work.
One night when we were pulling all the random elements from the pack together (and discussing our love of cereal, the comedian Mitch Hedberg, and bug puns) Brad was trying out the brushes and showed me some sweet tricks for adding clipping masks and changing colors fast.
I was so excited by this faster way of doing this I asked him if he'd make a video I could share with you. Enjoy!
Brave the Woods Summer Tour
Brave the Woods is currently on tour doing workshops across the country about using textures and making bugs. How cool is that!
Learn more about the Brave the Woods Summer Workshop Tour
If you live near any of the following areas I highly recommend you signup for the workshop:
Minneapolis, MN (June 6th, 2018)
Madison, WI (June 7th, 2018)
Metro Detroit, MI (June 13th, 2018)
Grand Rapids, MI (June 14th, 2018)
Columbus, OH (June 19th, 2018)
Indianapolis, IN (June 20th, 2018)
Chicago, IL (June 22nd, 2018)