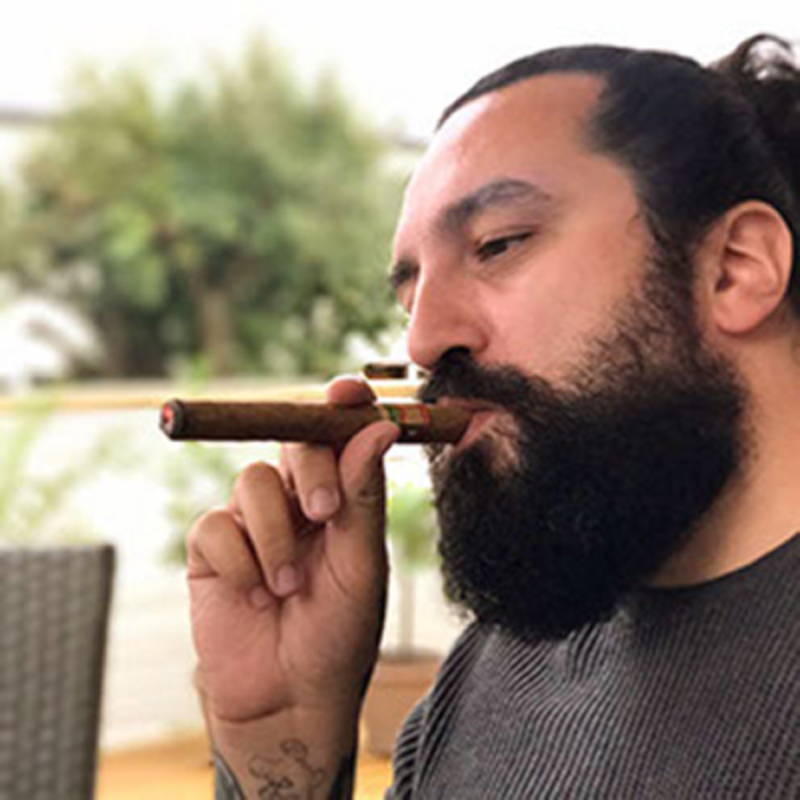 LEARN YOUR NEXT SKILL FROM THE BEST
You can learn to draw a vector portrait in Adobe Illustrator from one of the best vector artists around and the best part is that you don't have to be a vector genius to do it!
Step up your portrait game and have something new and valuable to offer your clients.
No tablet. No iPad Pro. No Apple Pencil. Just Adobe Illustrator and your mouse- it's that simple.
Here's what your're going to get:
​​​​​​​90-minute live webinar with Emir Ayouni demonstrating his techniques

Instructional section

Q&A section so you can ask Emir your questions

Video recording of teh webinar so you can watch it whenever you want
"No education. No fancy pens. No drawing tablet board thingie. Just a healthy relationship with Satan and my software."
Emir Ayouni | Growcase & Forefathers Group

Live Webinar
Join us on the live webinar. It's simple and easy. When you purchase the webinar we'll give you a link and password to reserve your seat. You'll get an email reminder before the webinar with a link to join. If for any reason you can't attend live we'll send you a recording.
---

Learn How to Draw a Vector Portrait
Learn to create a vector portrait in Adobe Illustrator from illustrator and designer Emir Ayouni. Emir will break down his process, share his best tips, and help you avoid common pitfalls that make portraits looks whack.  
---

Q&A Session
The last 30 minutes of the webinar is devoted to Q&A. You can simply type your question in the chat box and we'll be sure to answer it for you––so you can be sure that you understand Emir's process for creating portraits inside and out.
---
Recording
If for any reason you can't attend the webinar live, no worries. We'll be sending everyone who enrolls a live recording of the webinar. Watch it at your convenience (we recommend a quiet evening with some bourbon––just you and Emir).
---

Vector Faces Sticker Pack
Research shows that giving attendees a FREE gift increases webinar attendance and happiness. So we'll be sending each webinar attendee an exclusive pack of vector portraits stickers by Emir. We reserve the right to not send you the pack if you live somewhere that is hard to send via the postal service.
---

Live Chat
During the entire webinar you'll be able to chat live with other attendees. This has turned out to be a popular feature. Meet new friends. Exchange tips and tricks. Crack jokes at our expense and generally have a good time.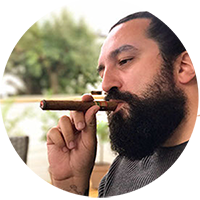 Emir Ayouni | Teacher
Emir Ayouni is the owner of Growcase and affiliated with The Forefathers Group™ A global conglomerate design studio franchised in Tulsa, New Jersey & Gothenburg.
Emir's love of illustration and design started as a kid.
"I drew my own Garbage Pail Kids cards and MAD Magazine Covers and just dreamt about one day getting to do something like that for a living. So I guess I was always into design, just not professionally."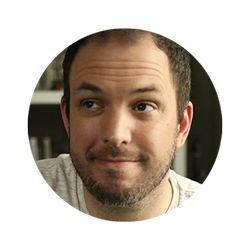 Dustin Lee | Host
Dustin is the owner of RetroSupply Co. and a marketing nerd. RetroSupply Co. provides illustrators and designers with digital brushes, textures, fonts, and templates inspired by history.
Dustin will be your host for the event fielding questions for Emir and generally making sure the webinar runs smoothly.
Frequently Asked Questions
What time is the class?
The class is on Thursday, August 23rd at 1:00 pm PST. If for any reason you can't attend at that time a digital recording of the webinar will be provided for you.
What if I can't make it to the live class?
No problem. We're sending everyone who purchases the class a recording of the entire webinar so you can watch it at your convenience.
Can I get a refund if I'm not happy with the class?
Because the class is live and there's no way to return the information we can't offer refunds. However, I can promise you we've worked hard to make this class a useful and fun investment.
Will I get a recording?
Yes, everyone who joins the class will get access to a recording so they can watch it at their own convenience. That means even if you can't be there live you still have a great resource.
What happens after I purchase the webinar?
As soon as you purchase you'll be sent a webinar URL and password to reserve your spot for the webinar. You'll also recieve follow up emails before the webinar reminding you when it starts with a URL to watch. You'll need to enter your name and email address on the webinar page.
Does this class focus on Photoshop or Illustrator?
Both. The class is a beginner's look into researching, creating, and preparing a shirt for print. We'll discuss a simple overview of working with Photoshop and Illustrator to create your shirt.  
How will I attend the class?
We'll be hosting the class live online (this class is not at a physical location) and recording it using our favorite webinar software, Crowdcast. You don't need to download anything.
Will this class guarantee that I make awesome vector portraits?
Nope. Emir will share the techniques he uses in his vector portraits. Some of these techniques will definitely make the process of making portaits easier. Much easier. But it still takes practice to get good.
The webinar has limited availability. Seats are first come first serve.
If you're interested in attending it's recommended you grab your seat now (to be sure they're not gone).