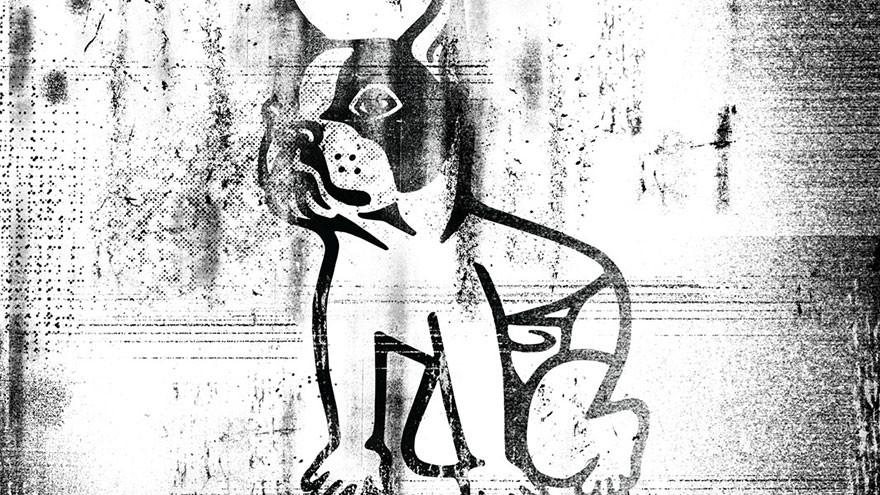 When we were making the Photocopy Hate Machine texture bundle we experimented with tons of different ways of using them. 
Here are five of my favorite ways you can use photocopy textures in your graphic design work. 
You can create your own photocopy textures, search for free ones on the web, or grab our latest photocopy pack here and save a ton of time. 
1. Add photocopy textures to indie music flyers
If you were a music fan in the 80s or 90s, you probably remember music flyers made on photocopy machines.
Growing up in the Pacific Northwest I subscribed to Sub Pop's mailing list and would regularly see band flyers and album artwork that were DIY collages put together quickly and photocopied for mass distribution on billboards, telephone poles, and the walls of music venues.
We made the cover to our photocopy texture pack in exactly this way. We assembled a collage in Photoshop, created text by hand with a sharpie on office paper, scanned it, and then added photocopy textures from our pack to give it the authentic look of a band flyer.
2. Find fresh ideas with copy machine textures
When you're working on a client project it's easy to get tunnel vision.
You go through the same motions like Pavlov's dog. 
This is great for productivity but when you're in a rut trying something new can get your creative neurons firing. You might not end up using the end result. But you might stumble across a fresh idea for something else.
For example, the image above was just me testing the Photocopy Hate Machine texture pack brushes.
I wasn't even thinking about what I was doing. But when I came back to my computer later and looked at the image I realized I had accidentally made something interesting. 
Can I use it in a project? Who knows. But since I've made that image it's been fresh in my brain that I can take these textures to an extreme. 
3. Use photocopy textures to add grunge
Photocopy textures are the result of little particles of toner (a mix of carbon and some potentially dangerous chemicals) that are electromagnetically pulled to a piece of paper in a photocopy machine. Then they're brought through a hot roller where they're smashed onto the paper with heat and pressure.
The result is some pretty gnarly textures with fine dusty textures, gritty, rough textures, and cool artifacts like paper roller lines.
These are perfect for using when you need to add some classic grunge textures to your work. Here's a poster design where I added a little bit of grunge by laying a texture over the top and then using the Photoshop brushes on a layer mask to add textures through subtraction.
Note: Cool coffin image courtesy of our friends at CSA Images.
4. Use copy machine textures for branding 
I used to go to a coffee shop in downtown Vancouver called Torque Coffee. The place was a rented out workshop converted into a coffee shop. People would walk through an opened industrial garage door, and you would be in this industrial space with a reclaimed wood barista counter, sealed concrete floors, and a super high ceiling with exposed beams and heating and cooling systems.
It was a pretty bad ass place.
Now how do you think their branding looked?
Was it squeaky clean and corporate? No way!
It was pure black ink stamped on cups. This smeared ink and imperfect look carried across the branding for the entire place.
Use photocopy textures to add a distressed, ink and grit feel to this kind of clients work. Want to use it on the branding side of the work? You can Image Trace a part of one of the textures in Illustrator, or you can use this weird little technique to use Photoshop textures in Illustrator.
5. Add dimension and personality to personal work
Vector work can look sanitized and boring. In most cases, a little bit of textures and imperfections can add dimension and a human touch to your design.
Here's an example from Kong Wee Pang.
Could she have just left if a squeaky clean vector?
You bet! It would have looked great too.
But little imperfections take the edge off. They eliminate the cognitive dissonance that's created by the artificial perfection that computer art has.
Want a super-useful pack of photocopy textures?
We worked for three weeks to create the photocopy texture pack of our dreams. 
Here's what you'll get:
55 high-resolution Bitmap TIFFs
75 huge photocopy brushes for Photoshop
1 Smart PSD for instant photocopy effects (drop your work in and save)
2 Photocopy Hate Machine reference sheets (TIFFs and brushes)
Easy to follow PDF instructions
Click here to grab the Photocopy Hate Machine
How do you use photocopy textures?
No doubt this list could have been 4x as long. There are TONS of creative ways you can use photocopy textures in your work.
I'd love to hear your ideas. Leave your best tips for using photocopy textures in the comments. If you have a piece of work you've done, that illustrates the concept link to it so others can see.