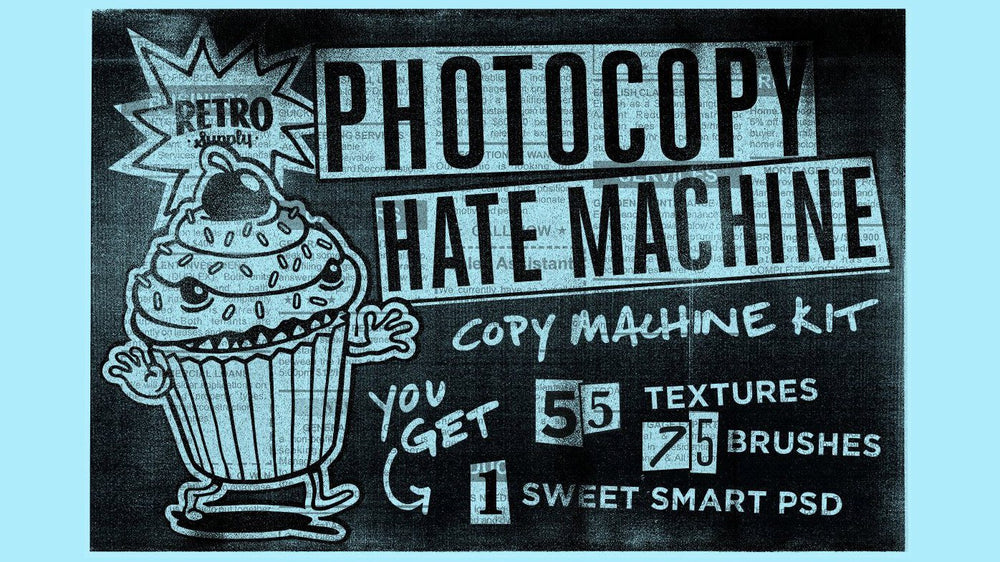 If you're looking for some new grunge Photoshop brushes to add grit, depth and age to your designs, you've come to the right place. We've already put together our ultimate collection of the 50 best Photoshop brushes elsewhere on the site – but here, we're looking specifically at the best brushes for adding a grunge aesthetic in Photoshop.

Whether you need to create subtle grunge effects or add deep, gritty texture to your images, you'll find the perfect grunge Photoshop brush in this collection.

And we've got some freebies for you, too. Click the link below to get some of our best RetroSupply grain and grunge Photoshop brushes for free.

You're welcome to use these brushes in your designs and illustrations however you like – whether it's commercial work or a personal project.
But now, back to grunge. Read on for our collection of the best grunge Photoshop brushes.
Cost: $19
Compatibility: Photoshop CS4+
Designer: RetroSupply
When it comes to grunge Photoshop brushes, this is one of our go-to sets. We made this pack from ink, paper and rollers in a little apartment in Florence, Italy – and they work just like you were dragging an ink roller across your canvas, letting you build up grungy textured effects in a super natural way.

If you're looking to add subtle grunge textures, roughen edges, or layer textures to create a vintage or aged aesthetic, we recommend adding this set of brushes, textures and smart PSDs to your creative toolset.


Cost:
$29
Compatibility: Photoshop CS4+
Designer: RetroSupply
Another great grunge style pack we use all the time is the Photocopy Hate Machine kit. Inspired by 90s alternative rock flyers, half-dead high school photocopy machines, and the possibilities of cheap mass duplication, this pack of 75 grunge Photoshop brushes, 55 textures and a smart PSD (for super-fast effects) gives you all the grit you could ever need.


Cost: $10.80
Compatibility: Photoshop CS5+
Designer: MiksKS
These fantastic Photoshop grunge brushes are available in two different sizes: around 5000px, for Photoshop CS6+; and around 1000px, for older Photoshop versions or smaller canvases. The pack come with 62 Photoshop stamp brushes, including varied textures as well as rolled ink border brushes.
Cost: $39
Compatibility: Photoshop CS4+
Designer: RetroSupply
This pack is our secret weapon. As well as 43 rich, high-res grunge Photoshop brushes, you also get 100 Photoshop grunge textures to overlay on your work in this pack – plus 60 bonus vector ink textures, bitmap textures and some 19th century vector engravings too. (And a number of video tutorials as well.)

The brushes and textures are incredibly easy to use, and add instant, powerful grunge effects to your illustrations and designs – crucially, without dominating your work.


Cost: $6
Compatibility: Photoshop CS1+
Designer: Liam McKay
We're big fans of these grunge Photoshop brushes from UK-based Liam McKay. This is the fourth set in the collection, and it's our favorite. The brushes are fantastic for easily adding a worn look to your illustrations and building up layers of realistic texture.
Cost: Free
Compatibility: Photoshop CS4+
Designer: Alex16
This free download from Netherlands-based Deviant Art user Alex16 gives you instant grunge effects to add to your work in Photoshop. According the Alex16, they're the first brushes he's made in a while – but they've gone down well on DeviantArt. The brushes are free for both personal and commercial use.


Cost: $9.60
Compatibility: Photoshop CS4+
Designer: Ilham Herry

Noise: Grunge Photoshop Brushes is a set of 15 high-res brushes that make it easy to apply a grunge, vintage, distressed look to your projects. It also comes with six seamless patterns made using the brushes in the set, and a grunge action too.



Cost: $29
Compatibility: Photoshop CS4+
Designer: RetroSupply
Another great option if you're looking for grunge Photoshop brushes is this Retro Effects pack. It comes with 60 premium brushes – including subtle grain brushes, subtle ink, halftones, folds and scratches – that will add instant depth, age and grime to your designs. You get 60 tactile textures and some overlays, too.
More premium Photoshop brushes
These are our favorite grunge Photoshop brushes – but we have a larger collection of premium brushes that we turn to regularly as well. You can see more of our favorite Photoshop brushes elsewhere on the site, and we'll update this article regularly with more must-have grunge brushes for Photoshop – so check back in again soon.