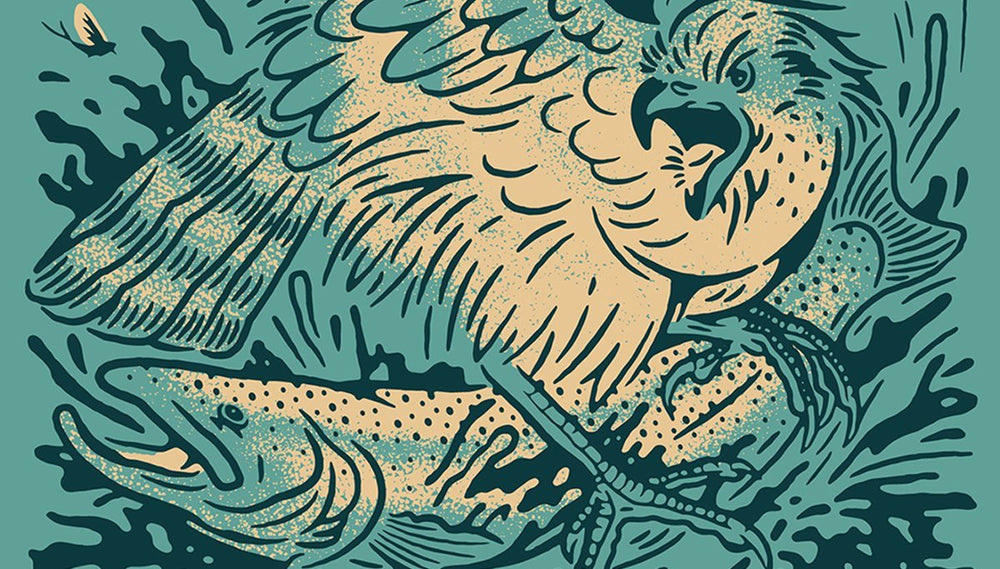 Say Hello to Illustrator and Designer Alana Louise
Alana Louise's work is heavily vector based. Yet, it maintains the feel of hand-drawn work mostly seen in analog ink drawing or Photoshop.
The lines are loose and organic, and as a collector of vintage commercial art, that resonates with me. Mid-century stock art was produced primarily in black and white so the artwork could be added to magazines and newspapers at a low cost.
Alana's artwork is reminiscent of that artwork. Put her in a busy advertising firm's art department in 1950s Chicago and she'd be right at home.
In this article, Alana will inspire you and give you some solid advice on working as a designer or illustrator. Here are a few of my favorite things we talked about.
Constantly challenge yourself to learn something new. For example, Alana had never used custom brushes or swatches before creating the art for Cross-Country Crosshatchers. Instead of expressing apprehension she was excited to level up her skills.
Do a lot of work for yourself now that will attract the clients you want in the future. This is pretty standard advice in the design world but it's not practiced nearly as often as you would think.
The process behind her vector illustrations. I love seeing how other illustrators work. Especially in illustrator. What I like most about Alana's process is that she works with a mouse to draw and keeps reference images open to look at and then free hands it.
I hope this interview gives you a boost of motivation, inspiration, or strength for this week. And if you're looking to try something new. Pick up the Cross-Country Crosshatchers pack. Alana used the pack to expand her illustration work and you can do the same.
Interview
Alana, thanks for taking the time share a bit about yourself. Can you tell us a little bit about how you first became interested in design and what led you to attend Savannah College of Art and Design? 
In a junior year art class in High School, I picked up a Communication Arts magazine (which I've kept to this day) for a collage project and as I looked through it, I thought to myself "I can make this a career"?
I initially planned to major in illustration and later was accepted to Savannah College of Art and Design after a portfolio review, but after graduating High School, I attended a week-long boot camp at the Art Institute of Atlanta, where I made a friend who told me I should major in design. I took his advice and switched my major and here I am doing both!
Despite having a wide range of different clients you're able to retain your own signature style while still meeting the needs of each client. What specific tips do you have for designers to help them find their own style?
It's taken me years to define a style that I could call my own and what it comes down to is doing work for yourself that will attract work that you want to do for others.
I've always been influenced by nature and the outdoors (I love to camp, hike, and fly fish), which is why you see a lot of flora and fauna in my work, and it has attracted clients who are passionate about the same things.
Ultimately, designers who would like to work with a range of clients should be able to adapt their style for what works best for the client and often that means getting out of your comfort zone to try new techniques.
I love to draw animals, but sometimes I have to draw a vehicle or a simple iconic mark, and figuring out how an organic style fits with something so rigid can be a rewarding challenge.
You created the artwork for one of our new brush packs. Can you share a little about how you came up with the concept?
I am so excited about this brush pack because I have only worked with brushes very rarely in the past and have never used texture swatches previously. It really opened my eyes up to a new method of illustrating.
After seeing what the brush pack offered, I sat down and thought, what have I experienced in the past that vividly represents the amount of grit I am able to work with?
And the entire state of Arizona came to mind. I've been to Arizona a few times now, and the amount of natural texture that exists in that state is breathtaking and endless.
This project was your first time using Illustrator brushes and seamless patterns. Can you share your favorite technique for using the brushes?
The technique I used with the brushes specifically included creating a stroke using the pencil tool and masking it within a shape.
You can copy and paste the masked shape and change the brush option above it to create dimensional shading patterns. The tutorial video included with the pack demonstrates this much better.
Can you break down your workflow for creating one of the animals you created for the pack?
For all three images I had a loose sketch to work off of that I keep on my file at a low opacity. When drawing things that need to be represented accurately, like a specific species of animal for example, I have several reference images that I am constantly staring at while illustrating.
I lay down my line-work first, and organize a set of layers to manage each level of the illustration.
After line-work, I then create shadowing with the texture brushes using the pencil tool and clipping masks, and lastly add layers of texture swatches, which I would either create a shape with the pen tool or use the blob tool very loosely. 
Can you share one of your favorite brushes from the pack and how you like to use it?
I loved using brushes 105 and 99 because these two were some of the more organic with incomplete strokes. There are selective negative spaces here and there that, when layered, create a really nice natural feel.
You create some pretty sweet hand lettering. What's your approach to creating custom lettering?
Completely custom lettering is my kryptonite! It's very rare that I make an attempt to create custom type and when I do, it's a very long process.
All of the lettering used in these images are typefaces that I've texturized or altered in some way. A good tool for doing this is the pencil tool, but be forewarned that it can be a wrist buster. Typeface designers, please do not come after me <3
Do you have any future projects coming up that you'd like to share with us?
Though I can't mention any names just yet, I've just completed two beer label designs for two different breweries that I can't wait to share!
I also am working on a partnership for two brands promoting conservation of public lands – something I am passionate about along with a handful of other projects. I'll be posting work on Dribbble and social media as things are released.
I've also created an Instagram account to separate my fishing adventures and it has attracted a unique set of clients.
If you had to start your design career all over with zero clients and no connections what would you do. Assume you only have a month to make money to pay your rent.
First off, I would start by pouring myself a nice glass of whiskey.
But in all honesty, I would probably pursue a career as a fly fishing guide and design would become more of a hobby. The opportunity to be a fishing guide has been presented to me in the past and I really don't know why because I consider myself to be a rookie 😮
Thank you so much for taking the time to share your advice and talent with us. Any final thoughts?
The last piece of advice I would like to leave others is to constantly challenge yourself to learn something new.
Improving your skills is impossible by waiting for someone to tell you what to do. Get out there and read articles, take an online class or two (I recommend Simon Walker's logo design class as one of them), and pick up a book and read (I am currently reading Graphic Artist's Guild Handbook).
About Alana Louise
Alana Louise is an independent illustrator and designer based out of Austin, Texas. She loves nature, fishing, and a good microbrew. You can check out more of her work on Dribbble or Instagram.