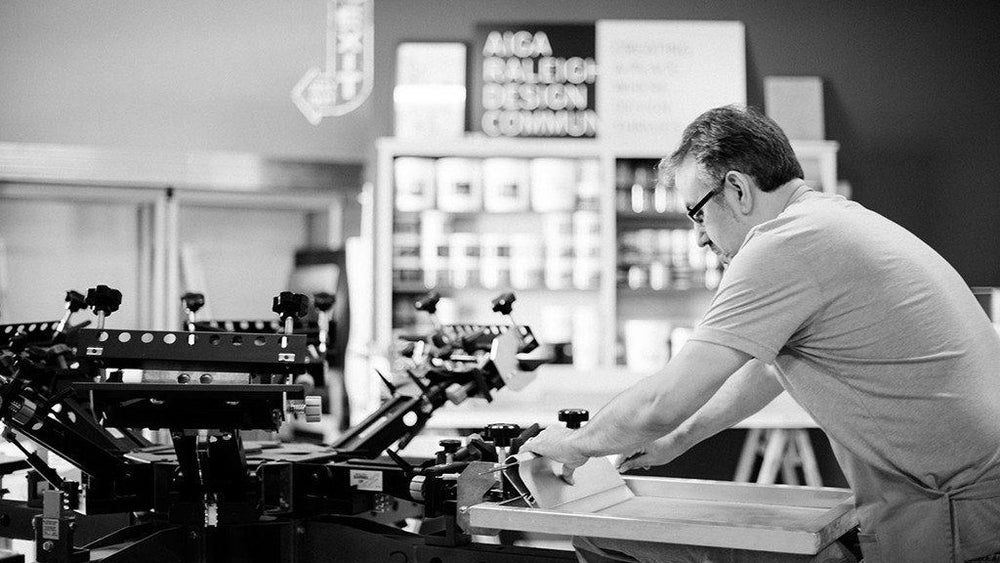 "My community saved and changed my life. I want everyone else to experience that too. We are better, we are stronger together."
In August 2014, Hey Monkey founder Lenny Terenzi signed a lease for a 1,750 sq ft warehouse space in Durham, North Carolina. It was bigger than he wanted, cost more and meant a longer commute than he'd hoped for. But it was perfect.
This space was to be not only his new office and screenprinting studio, but also a creative sanctuary for the community. To make that happen, however, a lot of work was needed to transform the featureless concrete warehouse into the creative watering hole he dreamed of.
He put out a call to the community for help – and the community came. En masse. Lenny had to turn people away. He estimates they did two weeks' work in just two days.
Today, the space is an inspiring hive of screenprinting activity, set to a backdrop of beautiful reclaimed wood, exposed ductwork, Edison lights, theater seats and other reclaimed design flourishes. Lenny holds workshops in which he teaches others how to screenprint, hosts one-on-one classes, holds speaking events and runs an open-door policy for creatives who want to come and work at his space.
It's an impressive achievement – and all the more so given that just a few years ago Lenny had no idea how to screenprint, and no kit to speak of.
In fact, he worked in digital design, about as far from screenprinting as you can get, and had done for almost two decades. So what drove him to jack it all in, launch his own design company, get hands-on in his work, and eventually build a community space to house his dreams and those of others?
Burned out
"After 17-plus years of digital only design – and more specifically, web design – I was burnt out," he admits. "My life was in shambles with a failing marriage, a massive amount of debt and a general unhappiness that stemmed from all that. I needed a full 180. Going through a divorce and living on my own for the first time ever at 37 years old gave me the feeling of, 'Ok, well, I might as well just go for it'."
'It' wasn't screenprinting, at the time. That would come, he says. "'It' was putting myself out there, embracing life and seeking others to help grow with. Honestly, I just wanted to do everything differently. If I zigged then, now I zag. Left was now right. I wasn't sure what 'it' was, but I knew I wanted it to be something real. Something tangible."
This more carefree, try-it-all attitude coincided with Lenny meeting a wonderful woman – now his wife – and joining the local AIGA chapter, AIGA Raleigh. The wheels were set in motion when unexpectedly, at his first AIGA meeting, Lenny was asked the following question:

"If you were given a sum of money to pursue something that you can't because money is the barrier, what would it be?"
That question – or rather, his answer – changed his life. "I said: 'Some sort of screenprinting or letterpress project. I want to make real things and put them out in the world'," he recalls.
"And long story short, they honored me, someone who was very new and very unknown, with almost $1,000 to learn screenprinting and buy some equipment," he continues. "The only return they expected was to share my journey in some way with the community. A few blog posts would have sufficed."
Go big or go home
Instead of just a few blog posts, Lenny threw himself into learning everything he could about screenprinting. And just two years later, he found himself signing the lease to his new shop in Durham.
Wouldn't it have been easier, cheaper and less of a risk to start small? Lenny admits he was "scared shitless" about building the community space. "But by this time I was in my 40s," he explains, "and you don't get time back. I'd never have been able to do this without the AIGA Raleigh community. They helped build this space, so it is so for them too."

It was a huge risk. There was no business plan or projections. Lenny simply took action. The biggest lesson he says he's learned is that moving from a home office to a 1,750 sq ft studio is, actually, a big deal.


"It really highlighted the hard work and plight of the one-man shop and single business owner," he explains. "If I'm working on building the shop and getting it ready to open, I'm not doing the 1,000 other things that also need to be done to run the business. Like get clients in the door."
"So as soon as the doors opened, it was dead. And it stayed that way for quite some time. Only just in the last year – with consistent social media, relationship-building and a willingness to pivot quickly as I see trends happening – have I started to overcome these challenges."

Pull someone up with you

In the last 12 months, Lenny has gone from being "a designer who screenprints" to "a screenprinter who is also a designer and illustrator". It's a huge deal, both symbolically and on a business level, too. "Printing brings the money in at a much faster rate," he explains. "This allows me to cherry-pick clients in other areas and have fun doing my own work."

It also enables him to spend more time teaching – something he advises doing as soon as you start learning. "Pull someone up with you," he recommends. Not only is this a great way to give back to the community, it'll also accelerate your own learning. As he explains on his blog, "It's like music. Playing a gig is worth 10 rehearsals."


So what now? Lenny's currently focusing on growing his workshop, hosting team-building and live printing events, and pushing himself into new areas with his illustrations. After years of being advised to break into the kids' literature market, he's set his sights on making it happen.

"I'm also looking to expand the studio capabilities," he adds. "I would like a better flatstock printing table, new film printers, a paper cutter, Risograph printing and some large-format digital printers as well."
"I'm looking to position the shop as a creative print services studio specializing in lower runs. I'm currently exploring the crowdfunding scene to help make this happen, and I hope to have something in place before the end of the year." 
Turning things around
Does he have any advice for a designer or illustrator who isn't feeling fulfilled and desperately wondering how to make it all worthwhile? He certainly does:


If you're afraid of something, then that's what you need to do to move forward. Embrace it and you get the gift of bravery. And a life you never imagined.
Stop networking and build relationships. Give with no notion of getting anything back, and what you do get back will be more than you could have asked for.
Never. Stop. Drawing.
Even the smallest steps add up to a big leap. Don't pressure yourself to get huge things done fast. We have to work, we have to make money, we have to relax and enjoy quiet time. Just give yourself permission to tackle things as they come and in a timeline that makes you feel comfortable.
But... don't be afraid to close your eyes and jump if an opportunity presents itself. You might get hurt a bit on the way down but you will land safely.

Tools of the trade

One of Lenny's best pieces of advice is to push yourself with drawing. He carries a sketchbook and pencil everywhere, and although he sometimes finds himself too busy, he can always feel when he isn't exercising that muscle. "So push yourself," he urges. "Even five minutes a day."

He also uses RetroSupply tools, brushes and textures on a daily basis. "They've helped push my work, and helped me define a voice and style for my own brand," he says.
"I also use them in my screenprinting workshops," he continues. "I have a bunch of films printed with stock art, textures and shapes from various RetroSupply products, so that when people who aren't designers come in, they have fantastic resources to make their own art to print with."
Right now, Lenny's busy gearing up to travel to Dallas, TX for the AIGA leadership retreat, where hundreds of board members and AIGA national employees will gather to talk about they can better serve each of their areas. Now vice president of the Raleigh chapter – and previously serving as 'director of uniting people'; a unique position that recognized his ability to bring people together – he's holding true to his commitment to give back to the community.

"It's simple. The community saved and changed my life," he says. "My community put faith in me – an unknown at the time – and changed the entire course of my life. I will feel forever in their debt and I will pay it back with a lifetime of service. And I want everyone else to experience that too. We are better, we are stronger together."
Creative Giants: This is the first in a new series looking at inspirational creatives with a thirst for learning and pushing the boundaries. They aren't afraid to take risks. They face each new challenge with optimism, grit and passion. And they're changing the world around them, one step at a time.