Branding Webinar with Emir Ayouni
Branding Webinar with Emir Ayouni
In this comprehensive webinar, you'll get insight on how Emir Ayouni handles a branding project, step-by-step.
Emir will cover everything from first contact with a potential client, all the way to presenting the final product and delivery.
Here's what you're going to get:
​​​​​​​Two 120-minute webinars with Emir Ayouni, working on a branding project from start to finish

One 60-minute bonus webinar with Emir Ayoni

17 Training module videos with Emir Ayoni

Transcripts for every training module video

14 pieces of templates & resources (see all of them below)
Here's what we're going to cover:
​​​​​​​Step-by-step creation of a responsive brand identity

Client communication

Writing a proposal

In-depth client questionnaire explanation

Building a mood board

Going from sketch to final product

Working on a common goal with the client on ONE concept, instead of multiple

Creating a rock solid brand presentation

Creating a client brand book
---
Course outline
Customer Acquisition
1. First reply to an inquiry
Learn how to cut through unnecessary correspondence before cutting to the chase.
2. Going over the questionnaire
You'll get the Emir's questionnaire that he sends to every client. He will give a step-by-step explanation for each question and cover the importance of using them to lay down a foundation for the project.
3. Writing a proposal
Learn how to put together a proposal and learn how to decide if you should give clients pricing tiers.
4. Client follow-up call
Learn what topics you need to discuss with the client before digging into the process. Emir will also discuss the importance of face time communication.
Design Process
5. Mood board Creation
Learn how to build a mood board that you can share with clients and tips on where to pull inspiration.
6. Pitching concept ideas
Learn how to go from brainstorming to a written concept pitch.
7. Sketching
Learn how to move forward from your concept pitch and start putting pen to paper.
8. Design phase
Learn how to take your loose concept sketch and turn it into a polished brand identity.
9. Customizing type
Learn how to tweak and customize existing type to make it unique.
10. Creating a corporate color palette
Learn how to select the correct colors that will form the brand.
11. Building out a fully responsive brand identity
Learn how to break down a brand into a responsive scalable unit.
Deliverables
12. Building a presentation and working with mock-ups
Learn how to build out a polished presentation that will wow the client and sell the brand concept.
13. Putting together a brand book
Learn how to compile deliverables and package them up for easy access and handling for the client. Emir will also cover how to put together a brand style guide.
"20 years of branding work for clients has taught me what works and what's a waste of time. I'm excited to share what I've learned with you."
Training Modules
17 training modules by Emir Ayouni including sketch to final design, client communication, writing proposals, client questionnaires, building mood boards, and more.
---
Webinars
Three previously recorded live webinar training videos. We encourage you to watch the training modules first and then watch the webinars for deep dives into content with live student questions.
---
Transcripts
Each training module includes a complete transcript of the session so you have a fast way to search through content and find what you're looking for fast.
---
---
Initial Client Email
Not sure what to say to a client after they first reach out? Get Emir's personal email template he uses to start a client relationship on the right foot. It's surprisingly simple but sets expectations right away.
---
Client Questionnaire Template
You'll get Emir's very own client questionnaire. Best of all, it'll be provided as a template so you can just plug in your personal logo, adjust the questions to be specific to your client, and it's ready to be sent!
Inspiration Board Membership
You'll get an invitation to join Emir's personal inspiration Pinterest board. Emir has spent years collecting top-notch inspiration for his own branding projects. You'll get lifetime access to this board, which he add to every week!
---
Client Proposal Template
You'll get Emir's client proposal template, which can be easily adapted to your own branding clients. Combined with the skills you learn in the webinar, you'll be turning in all of your future proposals with 100% confidence.
---
Links to Business Resources
Over the years, Emir has found the best resources and tools for every part of the branding process. This includes software, websites, and more! No need to take notes, we will provide you with a PDF of all the links so you can reference it at any time.
Client Presentation Template
Create a brand presentation like a boss. This template is easily adapted to your own brand and is sure to leave a lasting impression on your clients.
---
Brand Book Template
Have you spent hours and hours obsessing over a brand book for a client? Save time with this simple proven style guide template to send to clients. The template outlines their responsive brand, corporate color palette, and typography. Pays for the course in one fail swoop.
---
Corner Rounding Script
Nailing natural looking rounded corners in Adobe Illustrator is harder than it should be. Get access to Emir's personal Ai script that he uses on branding and illustration work. Emir uses this script on almost everything.
Links to Font Resources
Choosing the right fonts is crucial to creating branding. Get a list of all Emir's favorite places to find quality fonts and test fonts quickly. One little known website Emir recommends will save you hours on each project.
---
Examples of Sketches to Finals
One of the best ways to learn how to create great branding is by looking at the work of people you love. Get access to example sketches as well as the final artwork for a variety of projects by Emir.
---
Responsive Brand Checklist
Start being super consistent in your branding work with Emir's responsive brand checklist. Ensures you don't forget anything when delivering a brand that's fully responsive.
Color Inspiration Board
If you've ever looked at Emir's work you know that he is fantastic with colors. Learn the easy tricks that Emir uses to build color palettes that work and get access to his color inspiration board.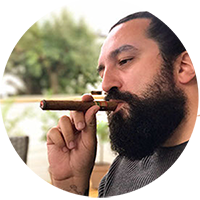 Emir Ayouni is the owner of Growcase and affiliated with The Forefathers Group™ A global conglomerate design studio franchised in Tulsa, New Jersey & Gothenburg.
Emir's love of illustration and design started as a kid.
"I drew my own Garbage Pail Kids cards and MAD Magazine Covers and just dreamt about one day getting to do something like that for a living. So I guess I was always into design, just not professionally."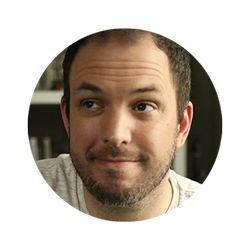 Dustin is the owner of RetroSupply Co. and a marketing nerd. RetroSupply Co. provides illustrators and designers with digital brushes, textures, fonts, and templates inspired by history.
Dustin will be your host for the event fielding questions for Emir and generally making sure the webinar runs smoothly.
Frequently Asked Questions
What happens after I purchase the webinar?
As soon as you purchase, you'll be sent a zipped file with all of the downloadable material. The first folder contains a Welcome Letter. This letter will have links to download pages we've created for the videos and transcripts. The password for these pages in also within the Welcome Letter.
Can I get a refund if I'm not happy with the course?
Because there's no way to return the information, we can't offer refunds. However, I can promise you we've worked hard to make this class a useful and fun investment.
We also encourage you to keep a beginner's mind. You'll likely know some of this stuff, but as soon as you tune out because you think you know something you miss the nuances in the teacher's approach.
We're all working with the same basic information and tools. It's how we wield those tools and the mindset we bring to the work.
Will this class guarantee that I make awesome responsive branding?
Nope. Emir will share the techniques he uses to create brands. Some of these techniques will definitely make the process of creating a brand easier. Much easier. But it still takes practice to get good.
As Seen and Talked About on...