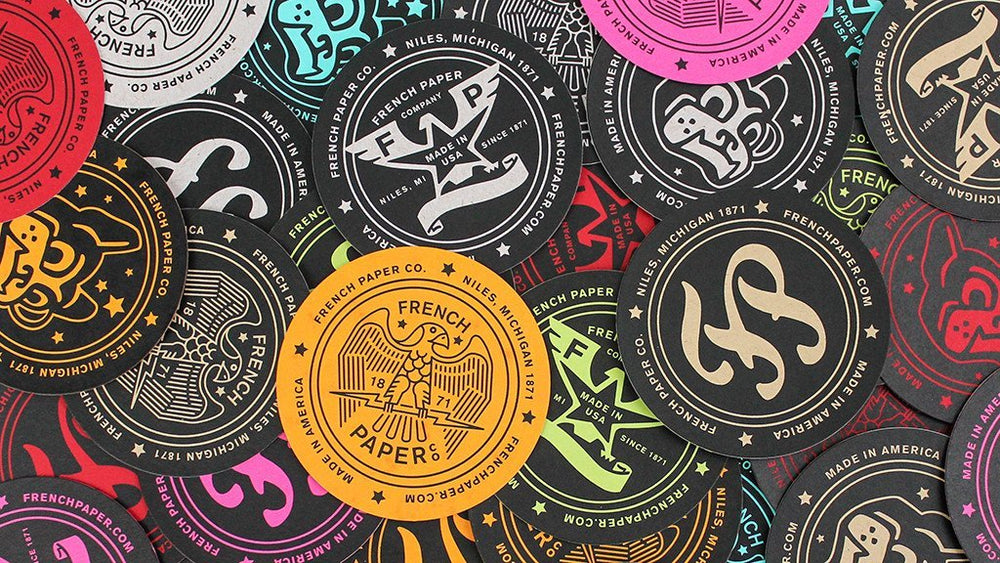 "We won't ever pretend to know what the next trend is in paper. But you better believe that when someone asks for it, we'll be ready to make it."
This is French Paper's 149th year in business. For six generations, the family-run paper company has continued to evolve, while rival empires have collapsed around it. 
The market has changed dramatically over the last century and a half. But despite fluctuating economies, the threat of new technology and persistent claims that paper is dead, the Michigan-based mill continues to thrive – propelled by passion, innovation and some savvy stock choices.
(And as the French Paper team point out: when they talk about stock, they mean paper. Not shareholder value.)



Image: The best part of joining the family business is the people, says Brian French. "The worst? Paper cuts."
For six-generation salesman Brian French, there remains huge power in paper and ink. "The reason I'm so passionate about paper – and probably why it's still so important – is its tactile qualities," he explains.
"The more we look at slick, shiny screens, the more our brains go crazy when we hold a textured sheet of paper. It's going to be difficult for technology to replicate that."

Paper chain

Today, French Paper is one of the few independent, family-owned paper mills left in the country. It's also one of the smallest, which makes its standing as one of the top paper brands in America all the more impressive.

Much of this is down to quality: the company's paper stock is outstanding. Its iconic Speckletone, Dur-O-Tone, Pop-Tone, and Construction lines have made a huge impact on the creative community, and the team dedicate a huge amount of time to ensuring each new product is the best it can be.



Image: French Paper offers many environmental paper choices
Brian also attributes some of the company's success to its emphasis on design. The mill boasts a long-standing relationship with Minneapolis-based studio Charles S. Anderson Design, and its continued commitment to creative marketing helps the company pack a real punch in a competitive marketplace.

"Design is a massive part of our identity as a mill," says Brian. We're a very small company with fairly low marketing budgets compared to our competitors, so creative design is our way to stand out and bring attention to our papers."



Image: Part of French Paper and Charles Anderson Design's new Muscletone promotion
"Right now, Charles Anderson Design is working on an incredible poster series and a Muscletone promotion featuring a pretty ridiculous cartoon version of me," he laughs. "It's never dull around here, that's for sure."

Off the grid

However, French Paper is also consistently ahead of the pack. Long a pioneer in green energy, the mill is fully powered by renewable hydroelectric generators that were installed by Brian's great grandfather back in 1922.

To date, the company has conserved over 1,000,000 barrels of fossil fuels. Not only are its CO2 savings equivalent to the use of over 4,878,049 lbs of coal, French Paper puts excess electricity back into the grid.
And the mill doesn't do any pulp manufacturing, either – which means it avoids chemical processes. It launched Speckletone, the first-ever recycled sheet with flecks and shives, in 1955, and the company's emphasis on recycled paper continues to inspire designers and their clients in their projects today.



Image: French Paper produces 10 comprehensive lines of paper and envelopes
Of course, not everyone can make green energy on site. But as designers and illustrators we can make better decisions – and when it comes to reducing the carbon footprint of a print project, Brian says there are a ton of great environmental options on the market today.

"Research the green aspects of your raw materials for a print job," he advises. "Whether it's paper, ink, binding or otherwise, push to select the most 'green' option available that will get the job done correctly."

"Also, do your best to design around available sheet sizes," he adds. "You'd be shocked how much trim waste gets thrown out at print shops because the job just doesn't fit very well on a sheet of paper."

Repeat business

One thing that French Paper does extremely well is repeat business. Its customers rave about its stock and are passionate about the brand. Even in tough times, when marketing budgets are the first to go, the company finds that a lot of people still see the value in high-quality papers.

"During hard times, a lot of our client base will simplify print techniques or reduce a production size and quantity in order to still have a piece that creates an impact," says Brian.
"We're also very lucky that our customer list is always very diverse, so not everyone is hit in the same way by economic changes. The packaging industry, for instance, has increased their paper and print budgets because they see such a huge return from using high quality uncoated sheets like ours."



Image: Luxury packaging
So how does French Paper keep its customers coming back time and time again? Brian has three pro tips for anyone looking to convert their clients into repeat clients:

01. Cherish the relationship

"Repeat sales start with a relationship; cherish that relationship," he begins. "We consider the folks who order our paper as partners, more than customers. We take a lot of pride in what people create with our papers and that goes a long way to helping us decide what to do in the future."

02. Quality goes a long way

"We do everything we can to guarantee that our customers get the very best stock from us," he continues. "Even if that means spending a little more time or money."

03. Be honest

"Most importantly, be honest. Customers respect and appreciate honesty, even if it's not what they want to hear at the time."


Family legacy

There are a lot of factors that keep a company around for nearly 150 years. Being a small company in an even smaller town has given French Paper an amazing work force, says Brian.
And thanks to its smaller size, the mill is able to react to what its customers need: the team make their decisions based on what designers and printers in the industry tell them. 
Just don't ask Brian to predict what's coming next. "We won't ever pretend to know what the next trend is in paper or colors," he explains. "But you better believe when someone asks for it, we will be ready to make it."
Creative Giants: In this new series we're looking at inspirational creatives with a thirst for learning and pushing the boundaries. They aren't afraid to take risks. They face each new challenge with optimism, grit and passion. And they're changing the world around them, one step at a time.
Image: The French Paper selfie beard was printed and die-cut by Franklin Press on Speckletone Kraft stock
Image: Yellow Light Crystaltone. "The design, print, and paper worlds are some of the most amazing communities you can find," says Brian
Image: French Paper and CSA Design collaborated with artist/illustrator/designer David Plunkert on a small artist book promotion – David Plunkert Posters On French Paper


Also read: